Patient Care Services at Home in Delhi: Enhancing Healthcare Convenience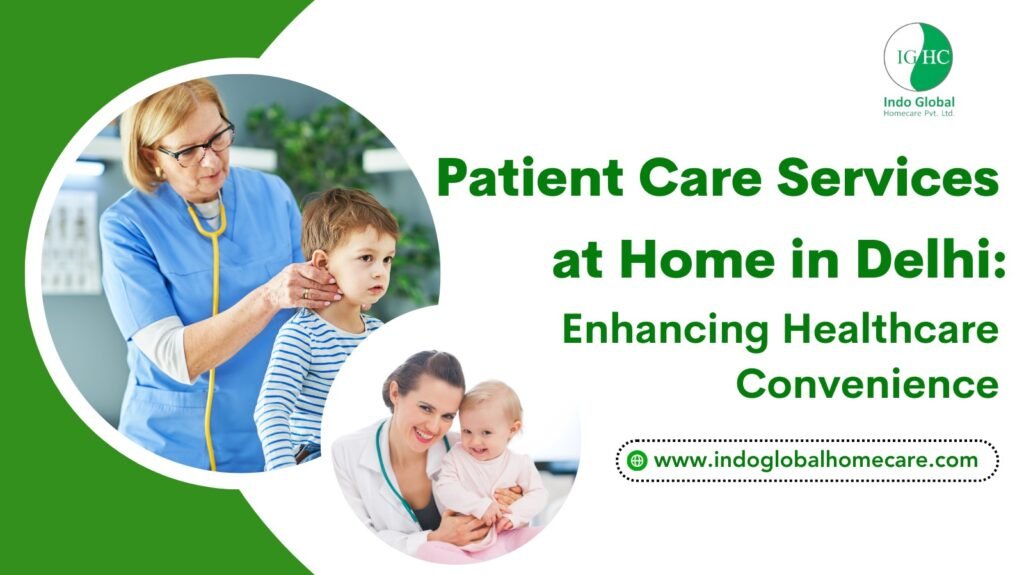 In recent years, the demand for patient care services at home has been on the rise, and Delhi has become a hub for these convenient and personalized healthcare options. Patient care services at home offer a wide range of medical assistance and support to individuals who prefer receiving care in the comfort of their own homes. In this blog, we will explore the benefits and importance of availing patient care services at home in Delhi.
Comfort and Convenience:
One of the primary advantages of patient care services at home in Delhi is the comfort and convenience it provides. Patients can receive necessary medical care without the hassle of traveling to hospitals or clinics. They can recuperate in familiar surroundings, surrounded by their loved ones, which can contribute to faster healing and overall well-being.
Personalized Care Plans:
Patient care services at home in Delhi offer personalized care plans tailored to the specific needs of each individual. Healthcare professionals assess the patient's condition and design a comprehensive care regimen that includes medication management, wound care, physical therapy, and more. This customized approach ensures that patients receive the exact level of care required for their specific medical needs.
Skilled and Compassionate Caregivers:
Delhi's patient care services at home are known for their skilled and compassionate caregivers. These professionals undergo thorough training and possess the necessary qualifications and experience to deliver high-quality care. They provide emotional support, monitor vital signs, administer medications, and assist with activities of daily living, ensuring that patients receive holistic care with empathy and kindness.
Enhanced Recovery and Rehabilitation:
Being in a familiar environment surrounded by loved ones during the recovery and rehabilitation process has been proven to enhance healing outcomes. Patient care services at home in Delhi facilitate a seamless transition from hospital to home, allowing patients to continue their recovery journey in a supportive and nurturing atmosphere. This continuity of care promotes faster healing, reduces the risk of hospital-acquired infections, and enhances overall well-being.
Cost-Effective Solution:
Availing patient care services at home in Delhi can also be a cost-effective solution. In many cases, home-based care services are more affordable than extended hospital stays or frequent visits to outpatient clinics. Additionally, patients can avoid expenses related to transportation, parking, and other incidental costs associated with hospital visits.
Conclusion:
Patient care services at home in Delhi are revolutionizing the way healthcare is delivered by providing personalized, convenient, and cost-effective solutions. By opting for these services, individuals can receive high-quality medical care in the comfort and privacy of their own homes. Skilled and compassionate caregivers, personalized care plans, and enhanced recovery and rehabilitation contribute to better health outcomes and an improved quality of life. Whether it is post-operative care, chronic disease management, or assistance with daily activities, patient care services at home in Delhi ensure that individuals receive the care they need while maintaining their independence and dignity.