Nursing Services at Home in Delhi NCR: Bringing Quality Healthcare to Your Doorstep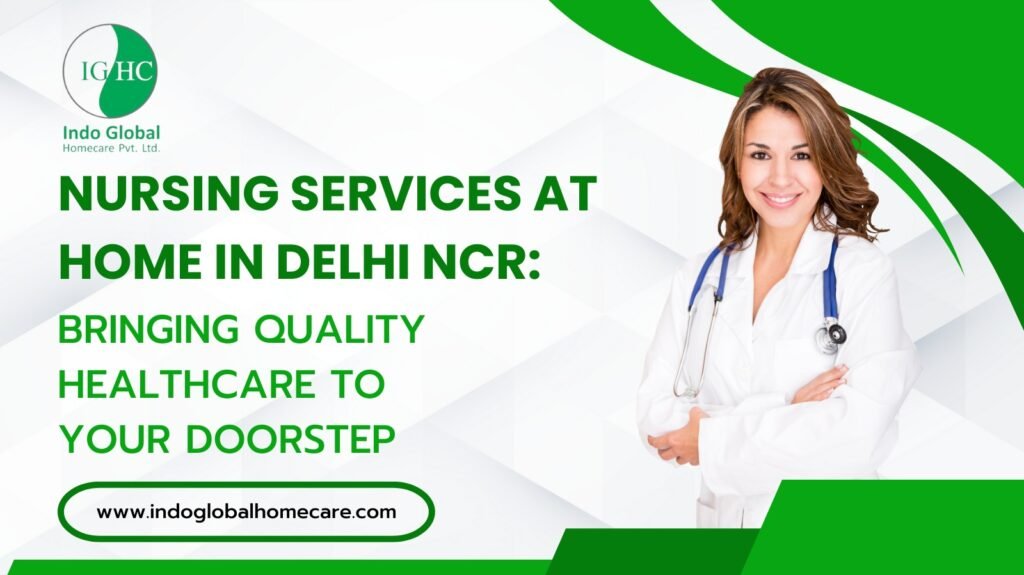 Introduction:
The need for quality healthcare has never been more evident, and in a bustling metropolis like Delhi NCR, access to healthcare services can be a challenge. However, with the emergence of nursing services at home, residents of Delhi NCR now have a convenient and reliable option to receive expert healthcare without leaving the comfort of their homes. In this blog, we will explore the benefits of nursing services at home in Delhi NCR and how they are revolutionizing healthcare delivery.
Convenience and Comfort:
Nursing services at home provide a convenient and comfortable alternative to traditional healthcare settings. Instead of enduring long waits in crowded hospitals or clinics, patients can now receive professional care in the familiar environment of their own homes. This eliminates the stress of travel and waiting, allowing individuals to focus on their recovery or health management without unnecessary hassles.
Personalized and Comprehensive Care:
One of the greatest advantages of nursing services at home is the personalized care provided by skilled and experienced nurses. These healthcare professionals are equipped to handle a wide range of medical needs, including medication administration, wound care, post-surgical support, chronic disease management, and more. By tailoring their services to the specific requirements of each patient, nurses ensure that individuals receive the attention and treatment they need for optimal health outcomes.
Continuous Monitoring and Support:
Nursing services at home in Delhi NCR offer continuous monitoring and support to patients. This means that individuals can receive regular check-ups, vital sign monitoring, and medication management without leaving their homes. Skilled nurses can detect any changes in health conditions early on and take appropriate action, preventing potential complications and promoting faster recovery.
Expertise and Trust:
When availing nursing services at home, patients and their families can have confidence in the expertise and professionalism of the healthcare professionals. These nurses undergo rigorous training and possess the necessary qualifications and licenses to provide high-quality care. Their compassionate and patient-centered approach ensures that individuals feel comfortable and supported throughout their healthcare journey.
Conclusion:
Nursing services at home in Delhi NCR have emerged as a boon for individuals seeking quality healthcare in the comfort of their homes. With personalized care, convenience, and continuous monitoring, these services have revolutionized healthcare delivery in the region. By choosing nursing services at home, residents of Delhi NCR can access expert healthcare without the stress of traveling or waiting in crowded hospitals. The future of healthcare is evolving, and nursing services at home are paving the way for a more patient-centric and accessible healthcare system.