Nursing Care at Home: Is It Really Worth It?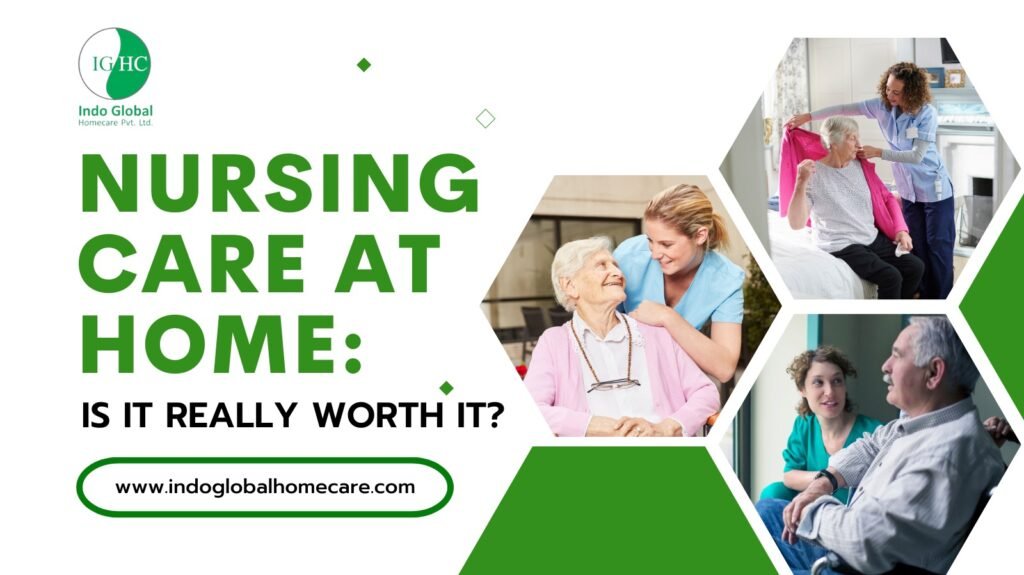 As we age or face health challenges, the need for specialized care and assistance becomes increasingly important. Traditionally, individuals would seek nursing care in hospitals or nursing homes, but a new option has emerged that is gaining popularity—nursing care at home. However, one may wonder: is nursing care at home really worth it? In this blog, we will explore the benefits of nursing care at home and discuss why it is indeed a valuable and worthwhile option for many individuals and their families.
Comfort and Familiarity:
One of the primary advantages of nursing care at home is the opportunity to receive care in a comfortable and familiar environment. Being surrounded by the comforts of home, cherished possessions, and the presence of loved ones can significantly contribute to emotional well-being and overall recovery. The feeling of being in a familiar space can alleviate stress and promote a sense of security, which is crucial for individuals on their healthcare journey.
Personalized and Individualized Care:
Nursing care at home ensures that patients receive personalized and individualized care tailored to their specific needs. Skilled and compassionate nurses work closely with patients and their families to develop a care plan that addresses their unique requirements. Whether it's medication management, wound care, rehabilitation exercises, or assistance with daily activities, the care provided is customized to promote the highest level of comfort, independence, and well-being.
Enhanced Quality of Life:
By receiving nursing care at home, individuals can maintain a higher quality of life. They have the freedom to engage in activities they enjoy, spend time with family and friends, and maintain their daily routines. Nursing care at home supports individuals in maintaining their independence and dignity, empowering them to live life on their own terms despite their health challenges.
Cost-Effective Option:
Contrary to popular belief, nursing care at home can be a cost-effective option compared to long-term hospital stays or residential nursing home care. By receiving care at home, individuals can avoid expensive hospital bills, accommodation costs, and other associated expenses. Additionally, home care services are flexible, allowing families to choose the level and duration of care required, which can further contribute to cost savings.
Peace of Mind for Families:
Nursing care at home not only benefits the individual receiving care but also provides peace of mind for their families. Knowing that their loved one is in the hands of skilled professionals who are dedicated to their well-being and safety can alleviate the stress and anxiety often associated with caregiving responsibilities. Families can have confidence that their loved one is receiving the highest level of care and attention, enabling them to focus on nurturing their relationship and providing emotional support.
Conclusion:
Nursing care at home is a valuable and worthwhile option for individuals seeking specialized care in a comfortable and familiar setting. With personalized care, enhanced quality of life, cost-effectiveness, and peace of mind for families, it offers a range of benefits that make it a viable alternative to traditional care settings. Whether it's for short-term recovery or long-term support, nursing care at home is proving to be a valuable resource in promoting overall well-being and improving the quality of life for individuals in need.