Emotional support in home health care services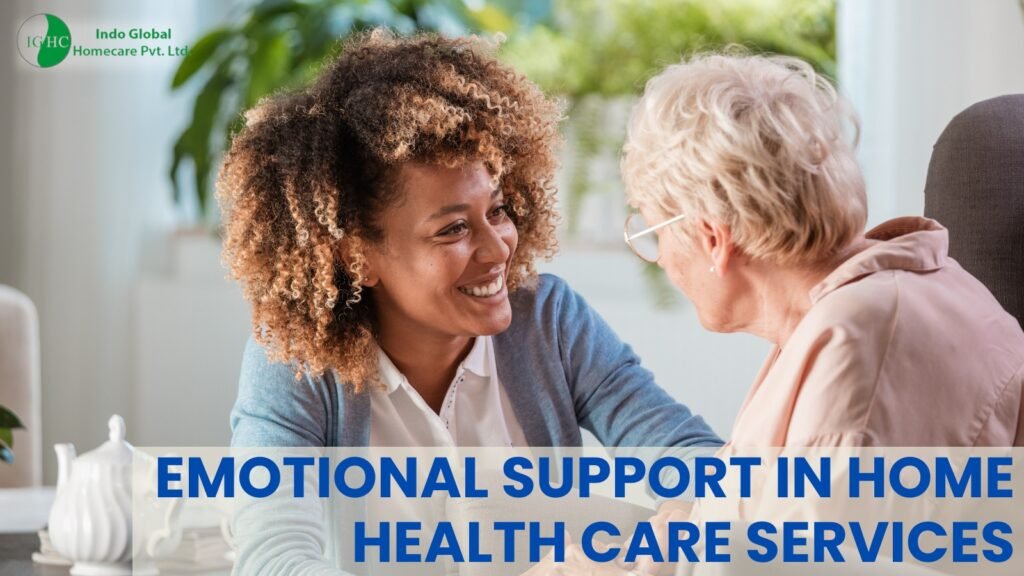 When it comes to home health care services, we often think about the physical aspect of care: medical treatments, assistance with daily tasks, and monitoring vital signs. While these aspects are undoubtedly crucial, there's another dimension of care that is equally essential, yet sometimes overlooked – emotional support.
Emotional support is the compassionate foundation upon which quality home health care services are built. It goes beyond administering medications and dressing wounds; it's about understanding and addressing the emotional well-being of the patient. Let's delve into why emotional support in home health care services matters so much.
1. Mental Health Matters
A patient's mental health is intricately linked to their physical well-being. Coping with illness, injury, or chronic conditions can be emotionally taxing. Anxiety, depression, and feelings of helplessness can often accompany these challenges. This is where a caring and empathetic home health care provider can make a world of difference. By offering emotional support, they help patients navigate the emotional aspects of their health journey, promoting overall healing.
2. Building Trust and Rapport
Trust is the bedrock of any successful patient-caregiver relationship. Patients must feel safe, understood, and valued. Home health care providers who offer emotional support not only tend to the physical needs of their patients but also create an environment where patients feel comfortable expressing their concerns and fears. This trust and rapport significantly impact treatment adherence and recovery.
3. Holistic Care
Emotional support is a critical component of holistic care. It acknowledges that a patient's well-being is not determined solely by their medical condition but by their emotional state as well. By addressing both the physical and emotional aspects of health, home health care providers offer a more comprehensive and effective approach to care.
4. Enhancing Quality of Life
Illness or injury can sometimes lead to isolation, anxiety, and a reduced quality of life. Emotional support in home health care can help combat these negative effects. Whether it's through companionship, active listening, or assistance with maintaining social connections, caregivers can improve the patient's overall quality of life.
5. Tailored Care Plans
Every patient is unique, and so are their emotional needs. Home health care providers recognize this and develop tailored care plans that account for both physical and emotional requirements. This personalized approach ensures that patients receive the support they need on all fronts.
6. A Support System for Families
Home health care isn't just about the patient; it extends to their families and loved ones. Emotional support doesn't only benefit the patient but also eases the emotional burden on family members. Knowing that their loved one is receiving compassionate care can provide families with peace of mind during challenging times.
In conclusion, emotional support is not an add-on to home health care services; it's an integral part of it. The healing process encompasses not only the mending of the body but also the nurturing of the spirit. Home health care providers who offer emotional support understand this and strive to make a positive impact on both the physical and emotional well-being of their patients. When seeking home health care services, remember that you're not just inviting a caregiver into your home; you're inviting someone who cares about your health and emotional well-being.
At INDO GLOBAL, we believe in providing comprehensive care that goes beyond medical treatment. We're here to support not just your health but your emotional well-being too. Contact us today to learn more about how we can assist you or your loved one on the journey to better health and well-being.